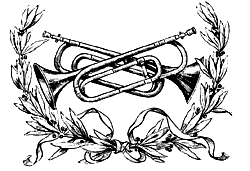 Thank you for contacting us at brass Trumpet Publishing.
A note about us...
We see songwriting and making records as a part of our vocation to serve the church and the world, trusting that the Spirit of the Lord will breathe upon the songs and blow them into soil that is ready and waiting--one heart, one home and one congregation at a time. The music is an extension of our lives and is a gift for us to share, in the same way that we would offer a neighbour a jar of homemade jam, a loaf of bread baked in our wood-fired oven, or a hand-crafted bottle of wine.
The albums:

Burn This As A Light (new release)

The twelve songs in this collection grew out of a long season of pilgrimage from our home on Galiano Island, British Columbia to the lush river hills of Appalachian Ohio. These songs of hope, which are all rooted in the biblical narrative, grew out of particular stories of sorrow and reflect our prayerful working while watching and waiting for a God-breathed dawn to arise.

(Tracks: "God Is With Us," "Wait On The Lord," "Break Up Your Fallow Ground," "We Trust The Story,"' "Wayfarers All," "Breath Of God," "When The Lord Brings Us Back," "Cause Your Face To Shine," "Alleluia," "Canopy," "Sabbath Song (This Day)," "Burn This As A Light")
Under the Shadow (2011)
These twelve quiet and sparsely recorded songs, which were written as our two young sons fell asleep, draw their lyrics from the psalms and from our family's joy in and meditation upon the good creation of God.

(Tracks: "Greenwater," "Creator of Orion," "Song of Ascent," "Unless the Lord Builds," "Until You Have Mercy," "When the Glory of the Lord Descends," "Underneath the Shadow," "Fire Temple," "Zion, My Child," "All through the Night," "Light Will Arise," "Everlasting God.")
Rain Down Heaven (2008)
These thirteen songs of pilgrimage, recorded during Holy Week, trace the liturgical Christian year, beginning with Ordinary Time ("Rain Down Heaven" and the hymn "Praise to the Lord! the Almighty"), moving through Advent ("Magnify," "Sing and Rejoice," "Wonderful Counselor") to Epiphany ("He Shall Reign" and "Break their Chains"), then journeying through Lent ("Lord Have Mercy," "The Time is Fulfilled," "O This Night is Dark" and "Lamb of God") to Easter ("Who Will Roll Away the Stone?") and concluding with "How Good and How Sweet it is," a Pentecost song of hope for the journey as we yearn for the Living Way that will dawn when God's Kingdom comes on earth as it is in heaven.
Unless the Seed Falls (2006)
These ten songs of conversion articulate a biblical storyline, one that begins with the creation of the world, witnesses the incarnation, echoes Jesus' words announcing the kingdom of God, recalls the Hebrew prophets' strong concern for the most vulnerable, calls us to repentance, seeks a Holy Spirit fire and points us towards a hope in the reconciliation of all things.

(Tracks: "At the Start," "Blessed are the Peacemakers," "Fire of Love," "Gather Around," "May Your Kingdom Come," "Something Like Scales," "Turtledove," "Unless the Seed Falls," "The Lord is My Light," "All Things Reconciled.")
Placing an Order:
Amidst the endless communication possibilities of this present technological age, we are grateful for your willingness to seek us and the music out in a somewhat slower and more relational means. There are two ways to access the music. To order a hardcopy of our album please send your address and contribution to:
Tom & Karen Wuest
1035 Satterfield Road
West Union, Ohio 45693
USA
The contribution you make for each album helps defray our costs cooperatively. We are very grateful and see this work as "community shared music" (like a CSA, "Community Shared Agriculture"), where those who partake in the fruit of the music help to sustain it financially. In this light, we are giving these albums away, asking you to give back in measure with your means, trusting that there will be enough to cover us.
Postage within the U.S.: $2 per cd.
Postage to Canada: $3 per cd.
Postage to Australia & New Zealand: $5 per cd.
Postage for bulk orders (more than 2) and other continents: Please e-mail for a quote.
For those who are pressed for time or who are living at a great distance, all fourdigital albums can be downloaded through Band camp.

Please send inquiries about music or anything else to brasstrumpetpublishing@gmail.com. We would be pleased to correspond with you.
Shalom,